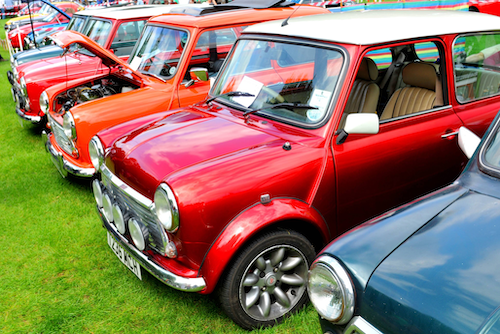 How to invest in a Future Classic Car 2021
Are you sitting on a potential goldmine on wheels? - We explore the future classic car hidden gems and why you should be behind the wheel of investment in 2021.
Would you believe me if I told you that classic cars appreciate better than gold and property combined over a 10 year period? A study by https://www.vanarama.com/car-leasing/blog/cash-in-the-garage-are-classic-cars-a-solid-investment.html found that it would take you 60 years of a savings account to equal just 3 years of investing in a classic car to get the same increase of value. All investments have risks and cars, along with stocks and gold can be unpredictable - being mindful of trends and styles along with vehicle care will allow you to wield supreme future classic seeking ability.
In 2021, there is no better time for future classic car hunting. 3x times more used cars were bought than new cars in 2019. As the value of classic cars sky-rockets and initial purchase price remains seriously affordable, it's a no brainer.
Finding the Future Classic
In order to have a car that would be deemed 'classic' in the next decade or more, we must look at the current modern classic cars available. A classic modern car is aged between 10 and 30 years old. Most of these cars were bought as a daily-driver at the time and not considered to one day be a sought-after classic. Due to this some may have been ragged around and mistreated. Mileage is important for a classic as well as upkeep costs. A 1950s Bentley would require pampering in the form of housing and a dry sheet cover, however a modern Mazda would fly under the radar and look after itself on your driveway. For the avid-bargain hunter however, this is the perfect opportunity to invest their money into a fruitful asset - besides, you can't take your stock shares out on the open roads in a stylish Bond-like fashion.
Rarity. Function and Style are features to look out for. Generally, if you like the look and feel of a modern motor and it has a taste of the past then there is a good chance it will be a classic in the years to come. We have hand-picked a list of affordable roaring petrol wagons, sports cars and fully electric cars fresh out of the factory that would make Nicholas Tesla shake in his boots.
Before you start your search, take a look at the checklist below.
Future Classic Checklist Before You Buy:
What is your budget?

Have you set aside money for maintenance costs?

What vehicles are currently sought-after?

Do you have the facilities to house a classic car?

Does the vehicle have a full service history?
Affordable Future Classics - Ranked by Price Low - High
1. Smart ForTwo

Likelihood of Becoming a Future Classic Rating:
Features of The Smart ForTwo:
0- 60 mph in 11.9 - 17.7 seconds

0.7 L engine

2 passenger rear-engine rear-wheel drive

Top Speed = 80 mph
Surprised? So are we. The dark horse of the future classic category, the original Smart Car, designed by Volkwagen ushered in a new pedigree of motor known as the "Micro car".
The SmartForTwo is a top tier city style-bender - two SmartCars can fit in a parking spot designed for a single car, that's adaptability.
All good things change with time and the Smart ForTwo is no different. In 2007, a new electric breed of "ForTwos" hit the London roads wielding a lithium-ion battery provided by Tesla. This means that the original petrol version has a chance of being sought after one day. Since its evolution to electric, the original ForTwo encompasses where it all began for the "Micro car" and already acts as an artifact of the past.
It's a niche choice which means it will garner attention from a dedicated fan base. It is economical to a tee and cheap to keep safe in a garage while time works its magic. We predict the Smart ForTwo mark one model has a chance at being a classic in the decades to come.
2. Mazda MX-5 Mk 1



Likelihood of Becoming a Future Classic Rating :
Features of the MX-5 Mk 1
1.8 L engine

Pop up headlights

Imports from Japan are named "Miatas"

Mid - engine rear wheel drive

Top Speed = 120 mph
Japan's lightweight roadster was designed with the phrase "rider and horse as one" in mind.
It won the 1990 automobile of the year and in 2021, is already seen as a classic car in many people's eyes.
It's cheap...really cheap and as it becomes rarer, models in mint of good condition are hard to come by. Judging by its popularity amongst consumers thus far - selling 400,000 units worldwide, we believe the MX-5 or "Miata" will be a collectible item in the future.
3. Peugeot 205 GTI
Likelihood of Becoming a Future Classic:
Features of The Peugeot 205 GTI:
1.6 L revvy and ready engine

Front - engine front wheel drive

0 - 60 mph in 9.3 seconds

Top speed = 122mph
The 205 GTi is the best hatchback to emerge from the 1980s. With a lego-like blocky build and balanced chassis, it really does make car enthusiasts drool.
Investing in a 205 GTi in 2021 is a great idea - it is pricey and models in good condition are hard to come by, however due to it being supremely popular amongst car veterans, it is worth the risk.
Its value is already on the up and mint condition models are selling for £30,000 and still rising. Alas, this car could be a goldmine in a few years. Besides, this investment comes with the bonus of all your friends and family wanting a ride.
4. Honda Integra DC2
Likelihood of Becoming a Future Classic:
Features of The Honda Integra DC2:
1.8 L engine

Front wheel drive

Top Speed = 145 mph
Thanks to the four-cylinder engine, this car is purpose built for rally-like twists and turns.
The value of the Honda Type R DC2 has doubled over the past few years and is set to continue its upward trend.
In 2007, the Type R set the record on the Nurburgring for front-wheel drive cars so it is safe to say the Honda Integra is cut from a different cloth.
It's more of a roaring rocket than a daily-driver but don't be put off by the noise - it represents Honda's finest achievements and is stamped with the infamous "red label" to indicate a sport specialism.
The DC2 is undeniably a powerhouse and has a proven track record of soaring prices. It is expected to become a £25k car within the next few years. So, if you have a bit more cash in the bank and are looking for a sturdy investment with tonnes of opportunity, look no further.
5. Porsche 997 (Carrera S)
Likelihood of Becoming a Future Classic:
Features of The 911 Carrera S:
3.8 L engine ( various engines available up to 612bhp)

"Lobster-fork" wheels

0 - 60 mph in 4.1 seconds
The beauty of the Porsche 911 doesn't end at its skirts. It has the ability to be a daily-driver, long journey explorer and flashy sports car all in one package. A true all-rounder.
When it comes to appreciation, the Porsche 911 doesn't falter. Experts predict that due to its current value and status of popularity, the value of the Porsche is only on the up during 2021.
Porsche has a plethora of motor variants available on the market - we recommend you invest in the 997 breed of motor and particularly the Carrera S as it represents the heart of traditional Porsche energy and stands proud as the most likely to be a future classic on our list this year.
Current Classics - Oldies But Goldies
Mercedes SL
The 1990s Mercedes SL is still reasonably cheap. The AMG version which provides a whopping 389 Bhp is a diamond in the rough.
All SL models have incredible build-quality and allow the driver to cruise in style surrounded by nineties tech.
It doubles as a commuter and a speedfreak roadster - If you invest in the SL500 with a V8 engine.
Ford Capri
A beauty to behold...the Capri. Nicknamed the "poor man's Aston Martin" when it first hit the market, it has now shaken the bad-boy reputation and blossomed into a classic.
Prices are on the steep incline. A 2.8i model is still in the affordable range so there is still room to hop on the Capri-bandwagon, but by 2022 this may not be the case.
BMW E34 M5
The E34 M5 is the most ballistic sleeper to emerge from the 90s...It can reach 0-60 mph in 6 seconds.
This is the Premier division of beemer.
For £10k and full service history, this is a goldmine possibility. Look out for issues such as engine deterioration and rust which if left unnoticed will cost you a small fortune.
Land Rover S2 (1958-1961)
Within the next 5 years Land Rover is releasing six new all-electric models into the wild. With this announcement, demand for the petrol guzzling forefathers of the brand are in high demand.
There are a sea of choices available for you and some even wear the proud badge of serving our country during the war. It is British culture at its finest and the coil-sprung versions perform well as a daily driver.
We recommend the Series 2 models as they deliver the untamed Land Rover experience for half the price of other options.
Let's Talk Electric…
The words electric and future classic in the same sentence may seem like a shot in the dark, but in 2021 electricity is illuminating the car market. Us car fanatics are on the cusp of witnessing a shift in trends and styles that will see petrol cars becoming retro-classics and electric vehicles beckoning the future-classic status. Unlike our previous list, we aim to paint a picture of what electric cars will be deemed classic within the next 10-30 years - we ask the question "What electric cars have the chance of becoming a classic in the future?"
Fiat 500 Cabrio
Image courtesy of:https://www.fiat.co.uk/500-electric/new-500-cabrio-la-prima
Likelihood of Becoming a Future Classic:
The Fiat 500 Cabrio is £12k - £30k and was birthed by the urban driving gods. With a super tight turning circle and excellent forward visibility, the Cabrio is designed for darting around cities and zipping into busy street lanes. It has a range of up to 188 miles between charges.
It is the cheaper option on the electric-motor marketplace and considering Fiat's promise on performance it is safe to say this is the car to show off on your way to work.
Some electric cars are too "space-age" for many but the Cabrio mixes the old and the new and would prove a worthy investment for anyone looking to the future.
Tesla Model 3
Image courtesy of: https://www.tesla.com/en_GB/support/meet-your-tesla/model-3
Likelihood of Becoming a Future Classic:
The model 3 from Tesla is a masterpiece of human engineering. Over 450,000 models are currently cruising the roads in 2021 and as the clout of Tesla grows, so does the value of the model 3.
Its starting price is £40k and allows the freedom of 258 miles. If you want an adept version of the model 3, spending an additional £9000 will grant you the "long range" model, capable of free range travel up to 348 miles.
The robots are indeed taking over and the model 3 has full autopilot mode which will keep you safe on the motorway.
It utilises each wheel at the same time with its own independent motor meaning this thing is quick (0-60 in 3 seconds)
As an investment for a future classic, you can't find a more stable option than this. Maintenance is simple but parts are expensive. In 10-30 years the Model 3 will be a dinosaur compared to the tech that will be available, for this reason it places on our list as a worthy investment.
As Elon Musk prepares for space travel, and the Tesla stocks also break into the stratosphere, the value of this now modern vehicle will quickly rise as it turns into a classic electric car.
Porsche Tycan
Likelihood of Becoming a Future Classic:
Pronounced tie-khan, this future classic is one of the fastest cars ever tested. It ties with the £1,000,000 Bugatti Veyron, reaching 0-60 mph in 2.4 seconds. If that isn't enough, there are four models available all with different batteries.
The base Tycan model peaks at 200 miles but upgrades are available.
When it comes to future classic cars, Porsche is a seasoned vet in the field. We predict the Porsche Tycan will be a must-have classic within the next 30 years, especially for those wanting to have a piece of engineering history in their garage. It is without a doubt the closest experience to an alien spaceship available to us and although it comes with a hefty price tag of £70k, the investment would be fruitful in the long term. It is a risk and with the market being so new it's understandable why it seems daunting.
If you have the cash and want to drive an extra-terrestrial like vehicle on the open roads, we highly recommend the Tycan.
How to Buy a Future Classic car in 2021
The 1960s, 1970s and 1980s
Automobile production boomed in the 60s and 70s and because of this there are a huge variety of options to choose from. This era was defined by quality and usability. Watch out for rust and rot as parts for some models are hard to come - for others there is excellent part availability.
Modern Classics
From 1990 to the present day, this category is referred to as "youngtimers". It is hard to find a classic of this era as many of them are still appreciating. Hot hatches are a safe bet as many are still gaining their hype every day. The early 90s models are generally more wanted. Unlike early era cars, a 90s car does not suffer from rust related damage. However as the use of electronics rose, so did the potential for them going wrong, hence 90s cars can be pricey to maintain.
Rarity
The rarer a car, the more money you will spend for parts. It is an unfortunate trade-off but generally speaking it is better to invest in a widespread vehicle rather than a one-in-a-lifetime one. The latter option seems desirable on the surface as you will look like the main character of a movie, even in your local shopping centre, but being money conscious is king in the classic car world so we recommend not blowing your hard earned cash on a bond villain car...unless that is your thing.
Running and Maintenance Costs
Being realistic is vital, if you can afford the classic of your dreams but do not have any cash reserves for running your vehicle, it will be a money pit and that applies to maintenance too. Be mindful of the insurance and tax cost of your vehicle.
A classic car investment is like having a child and it requires looking after. As a rule of thumb, older cars will cost more to maintain. The rarer a car, the less likely your local garage will be able to perform easy labour on it. Most old era classics are constructed simply and DIY can go a long way in maintenance.
Restoration Projects
Restoration is the definition of a risk but it can grant the greatest rewards. A specialist will need to be paid to do most of the work and it will take time. The idea of restoring a Land Rover to its World War british green would be a sight to behold. Having financial knowledge of money in vs money out is important as you don't want to put £50k into a project that would sell for £40k.
Documentation
You will need the MOT history and full service history, if the owner doesn't have it...don't buy it.
Much of the paperwork can be found online through the DVLA.
What to do on The Day of Purchase
This is your time to see your new goldmine. It can be a make or break experience. Visually inspect the vehicle and see if you actually like it in person.
Does the vehicle have a classic look? If it is a genuine classic, ask the owner questions and gauge its history on the roads.
Is there any undisclosed damage? Check the vehicle and bring a mechanically-minded friend with you to assess the condition of the vehicle.
Start with the outside and look for rust. Your wallet will be drained before you even get the car home if it is riddled with rust. Look at the engine, transmission and gearbox. Do the panels and bolts all fit well?
Then check the interior and get a feel for the vibe. Is this the classic feeling you were looking for?
Retrimming costs money so look for damage to the carpet or seats and make sure wood or plastic isn't worn away.
Check the tyres and then the electrics.
Consider getting specialist insurance for your vehicle too.
Conclusion
A future classic car is an excellent investment. In this game, time is your friend and whether you go electric or more traditional, most cars, if kept mint, can have classic-car value in the coming years.
Trends change so the vehicles we have listed should be taken as suggestions but it is an accurate representation of the current classic car market in 2021. Hopefully the image of your potential classic car investment is ever so clearer.
It can be daunting when taking the leap and investing in a vehicle - even more so with electric cars.
At the end of the day be mindful of the pointers but go with your gut. Even your used family runner may become a wanted item in the next decade.