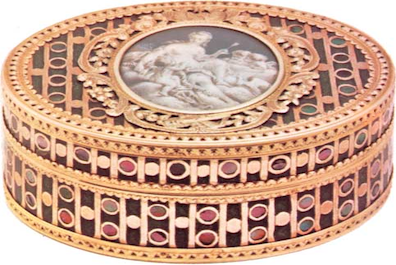 For centuries the we have been drawn to the exquisite craftmanship and design of snuff boxes.
As the name suggests, these boxes were made to keep snuff. It kept the product dry and accessible for usage. When snuff first came into use in the 15th century, brought back from the New World to Europe, it was used by both noble men and women. During the reign of Charles II snuff was officially classified as a form of tobacco, and we saw a rise in commissioned decorative snuff boxes during William and Mary's reign. Smaller for personal use and large for sharing among guest at a dinner party. The pulverised tobacco quickly became popular and was considered a luxury product, only used among the gentry. The lower classes relegated to smoking tobacco.
Throughout the 17th, 18th and 19th century snuff boxes were found in all sorts of shape and form, frequently modelled in materials such as gold, silver, tortoiseshell, bone or porcelain. The top lid repeatedly set with precious gemstones, pearls and painted cartouche to centre. In the late 17th century advanced enamelling also became a popular form of decoration. Especially guilloche enamelling.
Although the original purpose of the boxes had been for snuff storage, multi-purposed boxes with two hinged compartments, one opening up to reveal a watch dial, and the other to keep your snuff in was popular in the 19th century. During the Victorian era also, the lower classes could afford less decorative and simple snuff boxes as they were now mass produced. It's been reported that many ended up as 'cash for silver' in the pawn shop window when the ones struggling financially needed pawnbrokers' loan.
Nowadays, retailers and auction houses sell snuff boxes ranging from only a few pounds up to several thousand pounds. Probably the most renowned maker being the House of Fabergé, also known for their enamelled eggs, which in the late 19th century caught the attention of the Imperial family with their sophisticated enamelling techniques. Still a sought-after collector's item today, an example of a guilloche enamelled and gold snuff box, set with diamonds and painted portrait of Tsar Nicholas II to centre, made close to a £1,000,000 in Christies back in 2010.
Most recently a gold mounted porcelain snuff box by Meissen sold at Bonhams for a staggering £860,000 against an estimate of £100,000- £200,000 in April 2021. The box was originally commissioned for Augustus III, Elector of Saxony and King of Poland and painted with Dresden landscape copying an engraving by Bernardo Bellotto.
Even though snuff is no longer something we keep for dinner parties, they are still very much a collector's piece evident in recent obtained prices.