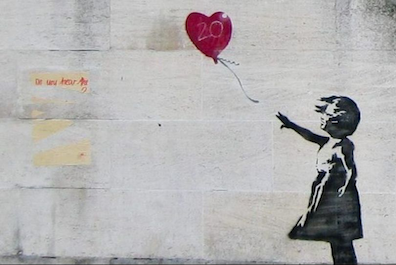 The Market for Banksy works and Art Finance
Since 2010, Banksy prints and paintings have become a currency – traded as assets. Since March last year, however, galleries and auction houses have closed their doors which sky rocketed the market for Banksy pieces. With the editions market well suited to online sales, Banksy print prices have shot up at an average of 83% since the beginning of 2020 and, in the midst of a global pandemic, over 100 Banksy prints have sold well in excess of their estimates. This has proved popular with those seeking art loans against their Banksy works, as a piece stored with a pawnbroker can increase in value. This could more than clear the loan benefiting both the borrower and pawnbroker.
There are two main reasons for this. First, Pest Control (Banksy's authentication body), and their invincible certification process, have made it fake proof provided one toes the line. The high level of trust this has created is partly responsible for the ease with which buyers and sellers can operate. Second, Banksy hasn't produced anything on general release since 2010, making the supply finite.
Of course this has been Banksy's idea; Banksy prints were created to provide artwork for the public. The irony that prints that once sold for £50 in the early 200s, are the same that sell for over 1,000 times that on the secondary market, is not lost.
The elusive artist has long played a role in shaping the way his works are bought and sold. From the infamous shredding of 'Girl with Balloon' at Sotheby's in 2018, to his recent trademark dispute with greeting card companies, it is no coincidence prices and demand for his work on the secondary market have doubled.
As with any asset class, when demand peaks, prices typical boil over – will demand for Banksy at the current rate overwhelm the market and swamp it? With every traditional asset class such as oil taking heaving losses due to the pandemic, established collectors are pumping the market. Such activity will result in a point of inflection. One 'Girl with Balloon' (2004) realised £438,500 beating its £80,000 low estimate five times over. The consignor had told Sotheby's, where it sold, she purchased it in 2004 for £274.
Profitability aside, it's the speed at which one can liquidate a Banksy that makes it an attractive asset. This can be a challenge for auction houses, which months ahead of a sale date. Because of this, the activity on the public auction market in online-only sales at Sotheby's, Christie's, Philips is nothing versus the activity on the private market. If you want to sell your Banksy when you want without having to move it, auction houses can't help you. This is also popular with pawnbroker loans online, as the information for Banksy editions are readily available, meaning art loans can be converted very quickly.
This has seen private galleries as a popular marketplace for Banksy works, however such places tend to charge substantial commissions to both buyer and seller for the convenience. At auction, buyers pay up to 25% buyers premium plus VAT, whilst sellers are usually charged consignment fees of 15% of hammer along with shipping insurance and marketing fees. With London as a hub for galleries and auction houses selling Banksy artworks, it is an attractive place for pawnbrokers in London.
The prints and editions market is an anomaly at auction. Whilst Banksy's 4 meter wide masterpiece 'Devolved Parliament' (depicting a dystopian view of chimpanzees in the House of Commons) was perfectly suited to the spectacle of public auction (realised £9.9 million in 2019), the very nature of editions means there is never just one chance at an artwork. This makes auctions somewhat less exciting. With editions, at least, if the price isn't right for you at the moment, there is always a chance elsewhere for a print from the same series.