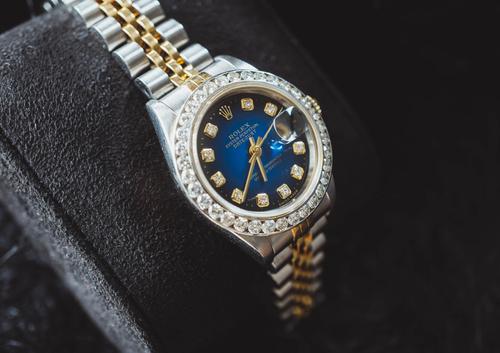 You have purchased your Rolex watch – now what? Whilst some are happy to simply keep their newly acquired timepiece as it is, others go one step further to customise theirs in some way.
This is usually done by engraving a personal note to the back or, more commonly, customising the bezel or bracelet with diamonds – known in the watch world as 'aftermarket'.
Whilst there are 'factory Rolexes', where factory diamonds have been added to the watch by Rolex and intentionally part of the original design of the watch, 'aftermarket diamonds' are added by customers or authorised dealers after they purchase a watch that has been manufactured by Rolex.
There are many advantages and disadvantages to doing this - which option would be the best for you?
If your personal taste leans towards the extravagant then setting your watch with diamonds will undoubtedly match your personal style. Aside from personalising your watch, an aftermarket Rolex watch lets you do what Rolex won't do. For example, you want a ladies stainless steel Rolex date-just from the 1990's with a diamond bezel, however Rolex did not permit diamond bezels on these watches produced on the 1990's or earlier. So having the bezel set after purchase allows you do to exactly this.
Another advantage is 'aftermarket' Rolexes are regarded as 'cheaper' alternatives - purchasing a Rolex with a plain bezel, and having it set by an independent stone setter is going to cost much less that simply purchasing a factory set model from a Rolex boutique.
There are some disadvantages to this, however, as 'aftermarket' diamond Rolexes do not hold their value as well as a 'factory' diamond Rolexes. The quality of work gone into a 'aftermarket' diamond Rolex is often not up to the high standard Rolex uphold, and added diamonds can detract from the resale or loan value of the watch.
This is why people will often keep their time pieces as near original condition and retaining the original box and papers in order to achieve a higher possible resale or loan value. The phrase "Why put a bumper sticker on a Bentley?" comes to mind.
If you are considering reselling or borrowing against your Rolex watch, it is highly inadvisable to add aftermarket diamond, as it is a relatively costly process that will not always translate to a high resale or loan amount.